Start-up the Chamber Carbon Action Plan
Nearly all businesses want to run more efficiently, respect the environment, and create local connections.  Make these things a reality through the Chamber Carbon Action Plan (C2AP). Facilitate students connecting with engaged businesses, simultaneously creating an educational experience. Talented post-secondary students create customized carbon footprint analyses and make fact-based recommendations. Volunteer businesses facilitate the reality of how operational decisions are made.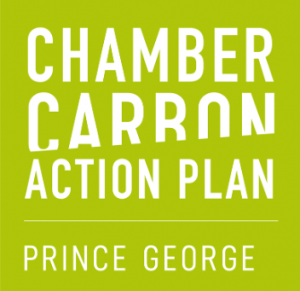 This package for purchase provides detailed information of what has worked so far. The C2AP Start-up Package provides access to the Prince George Chamber's Start-up Support.  The logo included is customized for each new start-up.  The Start-up Document, 35 pages plus attachments for adaptation, contains:
Timelines: When to do what.
Funding sources: Options and opportunities. Budgets.
Post-secondary partnership: Possibilities within. Chamber/Board of Trade's role.
Carbon Interns: Funding possibilities. Further the brand. Pursue carbon neutrality and reduction.
Business volunteers: Selection and recruitment. Keep them involved. Needs to know.
National Tree Day: Time to celebrate. Be inclusive. Involve the media.
Marketing: What works. Keep supporters happy.
Tracking: Keep on top of all the moving pieces.
Reporting to funders: The deliverables and impacts wanted.
Examples: Media Releases, Nondisclosures, Intern Reports, Funding Reports, Syllabus, Event Itineraries
Forms to adapt: Nondisclosures, Consent Forms, Report Letters
MAKE THIS CHAMBER MEMBER BENEFIT AVAILABLE IN YOUR AREA.
C2AP's founding and primary funder is CN Rail.