Member Spotlight: TC Energy/Coastal GasLink Pipeline Project
The Prince George Chamber of Commerce Member Spotlight is a new way for our members to educate others about their business or organization!
Keep reading for our April Member Spotlight: TC Energy/Coastal GasLink pipeline project!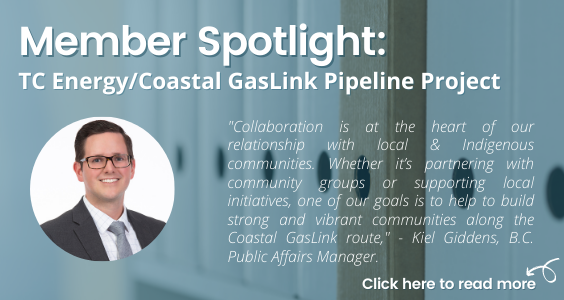 Who are you? 
HI there, my name is Kiel Giddens and I am the B.C. Public Affairs Manager for TC Energy and the Coastal GasLink pipeline project.  I have been based in Prince George since 2013, and I have the responsibility for the company's government and stakeholder relations activities in B.C. Prior to joining TC Energy, I held various senior advisor roles for Cabinet Ministers in the B.C. Government, including the Minister of Transportation & Infrastructure and Minister of Environment. Prince George is a fantastic city, and my wife Elyse and I are proud to call it our home as we raise our two young boys.
Why are you a member of the Chamber of Commerce? 
Being a member and participating in the Chamber is very important to me.  Our local business community is really the backbone of our community and I'm proud to be a part of this team supporting our community. Our business community not only provides jobs and economic opportunity, but we also give back to an incredible non-profit sector. The Chamber supports our businesses and advocates on their behalf.
I am currently the President of the Prince George Chamber of Commerce, and a longtime member of the Chamber's advocacy committee.
What would you like members of the Chamber of Commerce to know about your organization? 
When I'm not volunteering with the Chamber, my day job is really to support the building of BC's LNG opportunity. Coastal GasLink is now under construction and will play a vital role in linking BC's natural gas to LNG Canada's facility where they will prepare it for export to global markets. GHG emissions from LNG Canada's Kitimat operation will be lower than any facility currently operating in the world today and can displace coal in China and other countries to lower Global emissions. ​
Coastal GasLink is committed to creating an extraordinary legacy of safety and respect for communities and the environment. It's what we expect for the culture, attitude, and performance of each person working on our project, and we want to build a project that Canadians can be proud of. Our priority is the health & safety of our workers, their families, and communities.
Collaboration is at the heart of our relationship with local & Indigenous communities. Whether it's partnering with community groups or supporting local initiatives, one of our goals is to help to build strong and vibrant communities along the Coastal GasLink route. As we plan, construct and operate the pipeline, TC Energy will remain committed to investing in initiatives that enable communities to thrive. In 2020 alone, Coastal GasLink gave back over $787,000 to non-profits and community initiatives in Northern BC through our Build Strong Community Investment program and our Empower Employee Giving campaigns.
What advice do you have for other business professionals in Prince George?
Get involved in the Chamber or any number of our incredible non-profits in Prince George. It's a lot of hard work, but the reward is worth it.
I grew up in the Interior and spent time living in the Lower Mainland and in Victoria. I can honestly say that Northern BC is full of opportunities, and is a fantastic place to live, work, and be in business.
How do you #SupportPG in your work and personal life?
Coastal GasLink has made Indigenous & local contracting a key part of our project. To date, we've awarded $1.25 billion in contracting opportunities to Indigenous & local businesses from Northern BC. We want to be a part of supporting the region's healthy economic recovery.
At home, my family and I strive to #SupportPG whenever we can, whether that's shopping, or eating locally at one of our great restaurants. I'm not even joking when I say that I have never actually ordered anything from Amazon! I grew up in a family business household, and I know how hard business owners work. There is such a range of businesses in PG offering great service and an even better attitude. I'm happy to support them.