Prince George Chamber of Commerce Appoints New CEO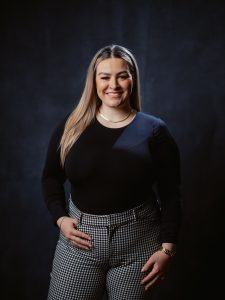 FEBRUARY 13, 2023
Prince George Chamber of Commerce Appoints Quynlan Young as New CEO
The Prince George Chamber of Commerce's board of directors is pleased to announce that they have appointed Quynlan Young as the new Chief Executive Officer.
The position became vacant in January when Todd Corrigall tendered his resignation after five years as CEO. Young will begin the role effective February 22, 2023.
Young began working at the Prince George Chamber of Commerce in 2018 as Executive Projects Coordinator, and is excited to be returning in this new leadership role following her recent maternity leave. "The mission of this organization aligns significantly with my personal values. Uplifting the businesses of Prince George is so important to me ", said Young, "I know I have big shoes to fill, and as the leaders before me did, I really hope to make a difference."
Young was born and raised by a family of business owners in Prince George, BC, whom she has assisted with day-to-day operations for years. She attended the University of Northern British Columbia where she spent time studying various businesses through casework on the UNBC JDCWest team and creating solutions for their respective challenges.
"We are so happy to have Quyn returning to our team as CEO," said Ray Noonan, President of the Prince George Chamber of Commerce, "the board is confident that she will excel in this leadership role, as we have already seen her demonstrate her business expertise. I feel the board has been able to add value to the membership by extending the offer to her."
In her time at the Chamber, Quyn has had the opportunity to work with the organization's membership of more than 700 firms. While she initially began her employment with a preference for planning and executing business workshops and large networking events, she quickly began to favour the work that the Prince George Chamber does to engage and advocate with and for the business community of Prince George. "I am excited to reconnect with our members to gain a true understanding on how I can best serve them. I look forward to focusing on economic recovery and development and continuing to grow a business community that is connected and collaborative." said Young.
About the Prince George Chamber of Commerce
The Prince George Chamber of Commerce strives to connect, engage and enhance the quality of life in our community by providing opportunities for businesses to succeed. We speak on matters affecting our members, research business issues, encourage investment, work to broaden the tax base, support crime prevention programs, recognize the importance of education in providing employment skills, are aware of environmental and cultural issues and maintain contact and work with politicians to improve the manner and method of doing business in Prince George.
[MEDIA CONTACT]
Joe Wendling
Senior Projects Coordinator
admin@pgchamber.bc.ca